Content creation is booming at an unprecedented rate.
Whether it's a 3D artist sculpting a beautiful piece of art or an aspiring influencer editing their next hit TikTok, more than 110 million professional and hobbyist artists worldwide are creating content on laptops and desktops.
NVIDIA Studio is meeting the moment with new GeForce RTX 40 Series GPUs, 110 RTX-accelerated apps, as well as the Studio suite of software, validated systems, dedicated Studio Drivers for creators, and software development kits to help artists create at the speed of their imagination. On display during today's NVIDIA GTC keynote, new GeForce RTX 40 Series GPUs and incredible AI tools — powered by the ultra-efficient NVIDIA Ada Lovelace architecture — are making content creation faster and easier than ever.
The new GeForce RTX 4090 brings a massive boost in performance, third-generation RT Cores, fourth-generation Tensor Cores, an eighth-generation NVIDIA Dual AV1 Encoder, and 24GB of Micron G6X memory capable of reaching 1TB/s bandwidth. The GeForce RTX 4090 is up to 2x faster than a GeForce RTX 3090 Ti in 3D rendering, AI, and video exports. The GeForce RTX 4080 comes in two variants — 16GB and 12GB — so creators can choose the optimal memory capacity based on their projects' needs. The RTX GeForce 4080 16GB is up to 1.5x faster than the RTX 3080 Ti.
The keynote kicked off with a breathtaking demo, NVIDIA Racer RTX, built-in NVIDIA Omniverse, an open platform for virtual collaboration and real-time photorealistic simulation. The demo showcases the latest NVIDIA technologies with real-time full ray tracing — in 4K resolution at 60 frames per second (FPS), running with new DLSS 3 technology — and hyperrealistic physics.
It's a blueprint for the next generation of content creation and game development, where worlds are no longer prebaked, but physically accurate, full simulations.
Deep dive into the making of Racer RTX in this special edition of the In the NVIDIA Studio blog series.
In addition to benefits for 3D creators, we've introduced near-magical RTX and AI tools for game modders — the creators of the PC gaming community — with the Omniverse application RTX Remix, which has been used to turn RTX ON in Portal with RTX, free downloadable content for Valve's classic hit, Portal.
Video editors and live streamers are getting a massive boost, too. New dual encoders cut video export times nearly in half. Live streamers get encoding benefits with the eighth-generation NVIDIA Encoder, including support for AV1 encoding.
Groundbreaking AI technology, like AI image generators and new video-editing tools in DaVinci Resolve, is ushering in a new wave of creativity. Beyond-fast GeForce RTX 4090 and 4080 graphics cards will power the next step in the AI revolution, delivering up to a 2x increase in AI performance over the previous generation.
A New Paradigm for 3D
GeForce RTX 40 Series GPUs and DLSS 3 deliver big boosts in performance for 3D artists, so they can create in fully ray-traced environments with accurate physics and realistic materials all in real-time, without proxies.
DLSS 3 uses AI-powered fourth-generation RTX Tensor Cores, and a new Optical Flow Accelerator on GeForce RTX 40 Series GPUs, to generate additional frames and dramatically increase FPS. This improves smoothness and speeds up movement in the viewport for those working in 3D applications such as NVIDIA Omniverse, Unity, and Unreal Engine 5.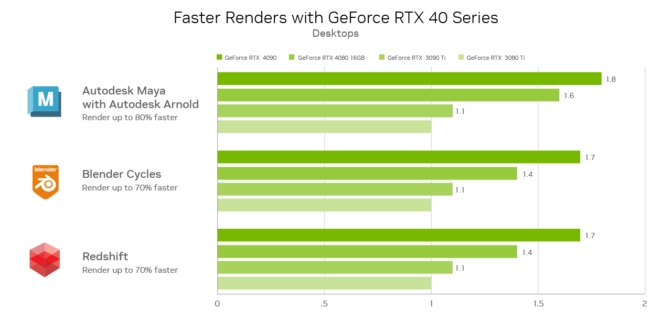 NVIDIA Omniverse, included in the NVIDIA Studio software suite, takes creativity and collaboration even further. A new Omniverse application, RTX Remix, is putting powerful new tools in the hands of game modders.
Modders — the millions of creators in the gaming world who are responsible for driving billions of game mod downloads annually — can use the app to remaster a large library of compatible DirectX 8 and 9 titles, including one of the world's most modded games, The Elder Scrolls III: Morrowind. As a test, NVIDIA artists updated a Morrowind scene in stunning ray tracing with DLSS 3 and enhanced assets.